Online Classes for Class XI(Arts/Sc/Com) are going to start from 14th Sept. 2020 and for BA 1st Semester from 21st Sept. 2020. ADMISSION GOING ON for Degree Courses in Arts, Commerce and Class XI Arts, Science and Commerce. Existing students of Even Semester are also requested to take admission in Odd Semester. Online classes for odd semester are going to start from 2nd week of September 2020. Students receiving link through SMS to fill the necessary informations in Google form are requested to fill the informations for your exam purpose. It is mandatory.
About Umshyrpi College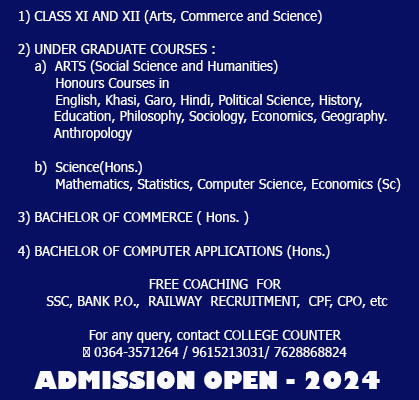 Sri Sayeedullah Nongrum
President, Umshyrpi College
Important Links
ABOUT UMSHYRPI COLLEGE
Umshyrpi College, a minority coeducational institution (Under section 2(g) of the National Commission for Minority Educational Institutions Act 2004 Vide letter no. CE/MS/1/2006/61) was established in the year 1994 by a group of like mined people with a common vision to accommodate students of all sections of the society in the area of higher education.....
Read More
" Innovation takes Practice for the Superior Level of Excellence "
Our
Courses
Umshyrpi College facilitates Degree Courses in Arts, Commerce and Class XI Arts, Science and Commerce.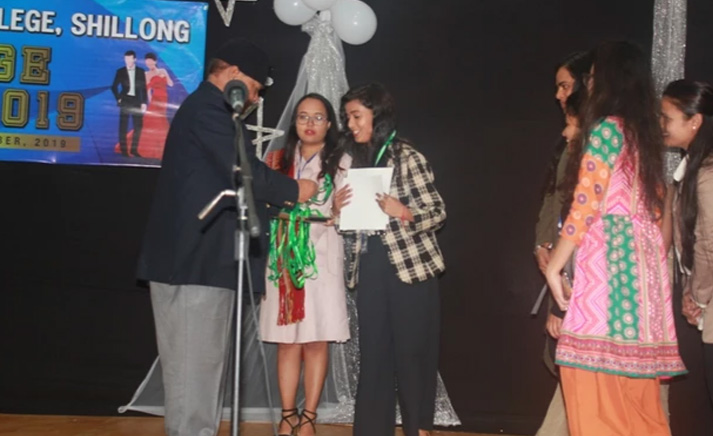 STUDENTS seeking admission in Arts, Commerce and Science streams must have cleared the HSLC/SSLC or its equivalent examination from a Board or Institution established by law in India.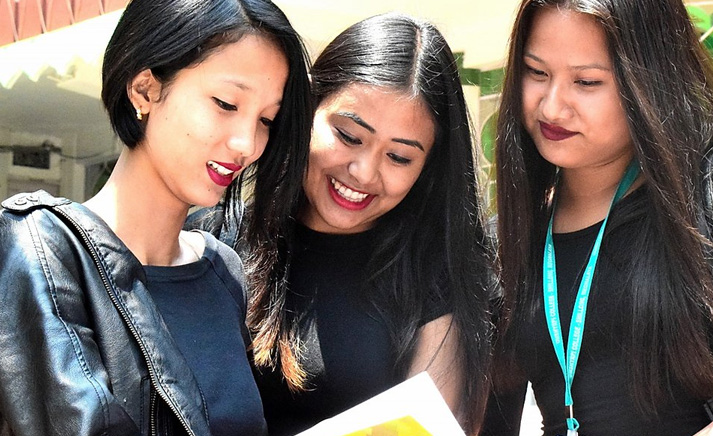 The application forms shall be available online or in the office immediately after the declaration of the class X examination results of the various Boards (MBOSE, CBSE, ICSE, etc).
Best College In
Shillong, Meghalaya
Umshyrpi College | Best College in Shillong, Meghalaya | College for Arts, Science & Commerce
WHAT PASSED OUT STUDENTS
SAID
A little inspiration will help you through some of the darkest nights and help you see the light....
"Success is no accident. It is hard work, perseverance, learning, studying, sacrifice and most of all, love of what you are doing." [...]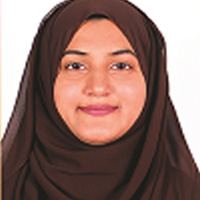 Hawwa Nahy
8th Position, B. Com (Hons.) (2018)
"Education is the most powerful weapon, which you can use to change the world." [...]

Parul Amin Laskar
1st Position, HSSLC Commerce (2011)
"You've got to get up every morning with determination if you're going to go to bed with satisfaction." [...]

Laisram shyam Kumar Lingha
1st Position, B. A. Pass Course (2008)
"Opportunity is missed by most people because it is dressed in overalls and looks like work." [...]

Amreen Nongrum
1st Position, B. A. Education (Hons.) (2010)
Free Coaching Classes
Free Coaching Classes for:-
1. Bank P.O./Clerk
2. EPFO/ESIC
3. RAILWAYS
4. OTHER CLERICAL EXAMS

​ Limited Seats Available. Students will be given priority on First Cum First Basis. Fill Up the form for more details