Vision :
PROVIDING AN ENRICHED LEARNING ENVIRONMENT
In keeping with the motto "Haiya Allal Falah" (Come towards prosperity), the institution will strive to become a centre of excellence, seeking prosperity morally and intellectually in an active and vibrant student centered learning environment. The campus will be a model of a diverse multi-cultural community wherein intellectual activity, civic responsibility and ethical values are held in high esteem.
Mission :
PROVIDE EDUCATION THAT TRANSFORMS LIVES, IMPROVES SOCIETY AND CREATES A FOUNDATION FOR A LIFETIME OF LEARNING.
Umshyrpi College seeks to encourage the development of the individual's intellect and character aimed at preparing students to face challenges in life. All members of the Umshyrpi family are encouraged to achieve excellence in their field of choice and share the responsibilities of citizenship and service.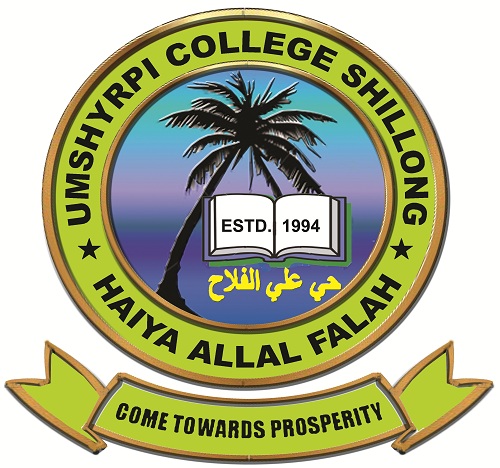 The motto of the college is "Haiya Allal Fallah" - interpreted as "Come towards Prosperity". It is a call towards the attainment of eternal success through intellectual, material and spiritual/moral prosperity where one's abundance and prosperity can overflow into the lives of others and be a blessing to them.
The college logo incorporates four essential elements, the Book, the Palm tree, Water and the Sky
The Book :
symbolises a source of wealth which is knowledge, wisdom and a life long process of learning.
The Palm Tree :
signifies strength of character, resilience, a fruitful and productive life even amidst harsh and barren conditions of life.
Water :
Water is a source of life. It sustains, nurtures, heals and cleanses/purifies life.
The Sky :
represents the eternal and the spiritual realm where dreams and visions and the endless quest for the ultimate truth stretches and infinitum.
In brief, the logo is symbolic of an individual whose roots of knowledge, wisdom and truth are deeply embedded, who grows strong in the right path, bears fruit and is a blessing to others.
Video